Bridget Regan
is an American actress who plays the character
Kahlan Amnell
.
Biography
Edit
Bridget Kathryn Regan was born in San Diego on February 3, 1982.
Bridget Regan is a film, television and stage actress originally from Carlsbad, California. Her film credits include The Best and the Brightest, Sex and the City: The Movie, The Babysitters and Binders. She played reccurring roles in Six Degrees, The Black Donnelleys, Law & Order: Criminal Intent, and had guest appearances on New Amsterdam and Love Monkey. From December 2007 through March 2008, she originated the role of Cecile Leroux on Broadway in the comedy Is He Dead? written by Mark Twain, adapted by David Ives and directed by Michael Blakemore. She is a graduate of the North Carolina School of the Arts.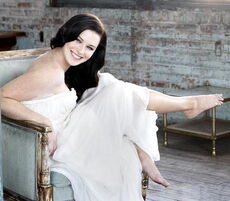 Bridget moved to Auckland, New Zealand to shoot Legend of the Seeker. The series was produced by ABC Studios, Sam Raimi, Rob Tapert, Joshua Donen, Ned Nalle and Kenneth Biller.
Her other projects include two independent feature films This Must Be The Place and Rua Taniwha both shot in New Zealand.
Her career as an actresses began in 2006.
Filmography
Edit
2010: The Best And The Brightness. Movie (Comedy), Produced by Josh Shelov.

2007: Supreme Courtships, The American Experience, Six Degrees, The Babysitters, The Black Donnellys
2008: New Amsterdam, Sex and the City: The Movie, 2008-Present: Legend of the Seeker