Emily Foxler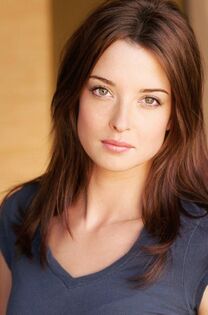 Born:
August 3, 1984
Uppsala, Uppsala län, Sweden
Full name:
Emily Malou Fuxler, a.k.a. Emily Baldoni
Age:
33
Plays:
Sister Corsha (formerly)
Nicci
Gender:
  Female
Emily Foxler is a Swedish-born actress living in the US who played Nicci in Legend of The Seeker, after she was resurrected (formerly played by Jolene Blalock).
Biography
Edit
Foxler was born in Sweden on August 3rd, 1984. She is known for her acting in other TV shows and movies besides Legend of The Seeker. Examples include:
Grizzly Park (2008) - Bebe
Killer Pad (2008} - Lucy
The Lost Tribe (2010) - Anna
Appearances
Edit
As Corsha:
As Nicci
Ad blocker interference detected!
Wikia is a free-to-use site that makes money from advertising. We have a modified experience for viewers using ad blockers

Wikia is not accessible if you've made further modifications. Remove the custom ad blocker rule(s) and the page will load as expected.