Sacrifice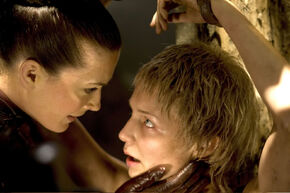 Kahlan and Denee are reunited
| | | |
| --- | --- | --- |
| Episode No. |   | Season |
| 10 | 1x10 | One |
Original air date
24 January 2009
Chronological Information
Kahlan realises that her sister, Dennee Amnell, is still alive, but is being held captive in a nearby D'Haran prison. Kahlan disguises herself as a Mord-Sith and rescues her sister, discovering that Dennee is with child. When Dennee gives birth to her child, Richard and Kahlan are forced to fight the Mother Confessor herself in order to save the baby.
Guest Starring
Edit
Ad blocker interference detected!
Wikia is a free-to-use site that makes money from advertising. We have a modified experience for viewers using ad blockers

Wikia is not accessible if you've made further modifications. Remove the custom ad blocker rule(s) and the page will load as expected.