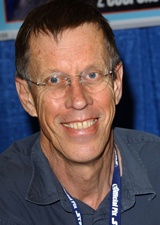 Bruce Spence (born September 17, 1945 in Auckland, New Zealand) is an actor, spending much of his career in Australia. Spence is most known for his role as Gyro Captain in Mad Max 2 , as Jedediah the pilot in Mad Max Beyond Thunderdome, and as "Zedd" in Legend of the Seeker.
He also appeared as Chum in Finding Nemo, the Mouth of Sauron in The Lord of the Rings: The Return of the King, the Trainman in The Matrix Revolutions, and Tion Medon in Star Wars: Episode III - Revenge of the Sith.
Ad blocker interference detected!
Wikia is a free-to-use site that makes money from advertising. We have a modified experience for viewers using ad blockers

Wikia is not accessible if you've made further modifications. Remove the custom ad blocker rule(s) and the page will load as expected.