Torn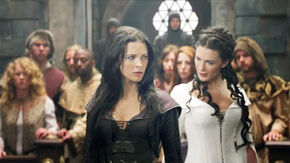 The two torn parts of Kahlan
| | | |
| --- | --- | --- |
| Episode No. |   | Season |
| 33 | 2x11 | Two |
Original air date
13 February 2010
Chronological Information

When Kahlan's homeland of Aydindril is taken over by the ruthless Prince Fyren, she and Zedd realize they must go to the legendary city to reclaim it from the tyrant, leaving Richard Rahl and Cara to continue the search for the Stone of Tears.
Ad blocker interference detected!
Wikia is a free-to-use site that makes money from advertising. We have a modified experience for viewers using ad blockers

Wikia is not accessible if you've made further modifications. Remove the custom ad blocker rule(s) and the page will load as expected.